Thanks to The Original Log Cabin Homes for being a part of bringing Sunset Lodge to life.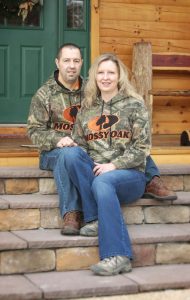 Sunset Lodge – we had the name before we had even dreamed of how our cabin would look. When we were looking at the land to purchase, we met the neighbors who told us that many locals came to the end of the dead end road in the evenings to view the sunset. As we stayed there that evening and watched the sun go down, we understood why…it was the most beautiful sunset we had ever seen…setting over the pine trees that appeared as rolling hills. Sunset Lodge was born – Our little piece of Heaven on earth.
The idea of a log home had long been a dream for Wanda since she was a little girl and her father took their family each year to their one room hunting cabin in the Blue Ridge Mountains. As we began to look for a cabin supplier, we quickly decided that The Original Log Cabin Homes would be our partners. Not only did we love the cabins but their company's core values were also aligned with our personal values….honesty, integrity, respect for individuals and excellence in performance.
…honesty, integrity, respect for individuals and excellence in performance.
We knew in the beginning that we wanted the cabin to look like a cabin from the 19th century so the entire inside is tongue and groove walls and ceilings. All floors are hardwood – yellow pine. There are many family artifacts throughout our home such as oil lamps, pictures of Wanda's family's original cabin, pictures of both Frankie and Wanda's ancestors, old irons that were placed in the fire to heat and cowbells.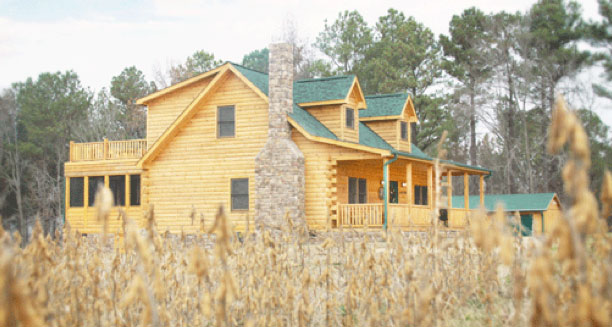 We chose the Tennessee Mountain model but we wanted to change the layout for convenience in our later years so we moved the master bedroom downstairs. Tosha Aldridge, Customer Service Representative, was a huge help as a partner during the planning process – she contributed many great ideas that we would have never thought of such as a pocket door for the laundry room to save space in the kitchen. Throughout the building process, Jeff Brooks, Vice President of Operations, was also a great partner for us – even though his responsibilities ended with the sale of the cabin. Jeff and Tosha always answered the phone to help with any questions or concerns we had through the building process. They were a key part in helping us complete the building project – great partners!
If you're looking for a family oriented partner to build your log home, we highly recommend The Original Log Cabin Homes as that partner. Jeff and Tosha both ROCK!
Frankie and Wanda Marshburn – Roanoke Rapids N.C