The Power of "CAN"
An offer to you…
Because we CAN!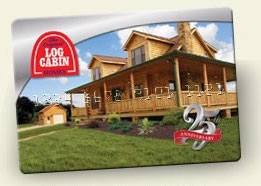 Since it's inception, The Original Log Cabin Homes has prided itself in it's commitment to making the dream of owning an Original Log Cabin Home an easily attainable reality. Once again, The Original Log Cabin Homes stands out from among the rest and joins the ranks of companies like Home Depot® and Lowes® by launching its own Exclusive Log Cabin Homes Credit Card. This card can be used for your 10% deposit and gives you up to 12 months to secure your regular mortgage financing. Meanwhile, you can secure your log home package with 0% down and simply pay up to 12 monthly installments.
Take advantage of 0% Down when you purchase an Original Log Cabin Homes Package.
---
Start your Adventure
with 0% Down
* This card gives us a maximum flexibility to accommodate the special needs of our clients. Available to homeowners and Soon-to-be Original Log Cabin Homes owners. Credit approval subject to qualified buyers. USA Residents only. This is a one time credit approval for up to the equivalent of the 10% deposit towards the purchase of an Original Log Cabin Home Package.
Contact Your Sales
Representative For Details