See The Times Square Photo at the Bottom Of This Page!
Breaking News
Mossy Oak® Partners with The Original Log Cabin Homes
ROCKY MOUNT, NC – Two legendary brands, Mossy Oak and The Original Log Cabin Homes, are bringing together their combined fire power to introduce the "Mossy Oak® Nativ Living™ Edition" of cabins, homes and structures that will be manufactured and distributed by The Original Log Cabin Homes Ltd. As the "Official Log Home Company of Mossy Oak," The Original Log Cabin Homes will use its worldwide network for the distribution and sales of the Mossy Oak Nativ Living products.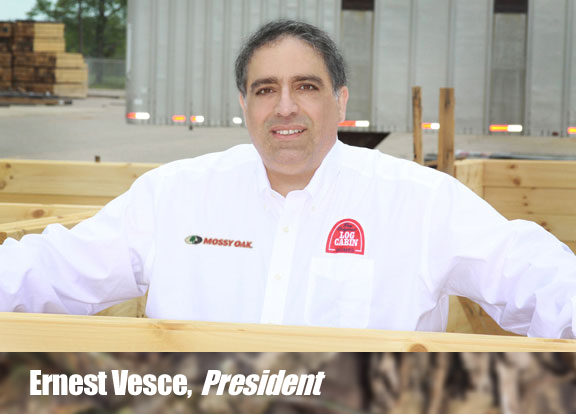 The exclusive worldwide product launch is scheduled for the spring of 2016 and will be manufactured at a dedicated plant in Rocky Mount, North Carolina. "The selection of Rocky Mount for the partnership's first plant came down to location and timing," said Log Cabin's President and Chief Outfitter Ernest Vesce. Rocky Mount was selected over locations in Tennessee and Virginia and will initially create 22 jobs.
The Mossy Oak Nativ Living Edition of cabins, homes and structures will have unique features and design elements inspired in the Mossy Oak tradition not available in Log Cabin Homes' standard product lines. Every Mossy Oak Nativ Living Edition structure will come with a distinctive wall-mounting, metal plaque for displaying its special edition status.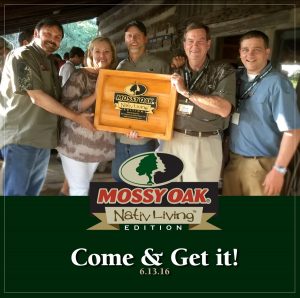 Today, the Mossy Oak® brand is more than just unique camouflage patterns. It has become a lifestyle in both outdoor and indoor living. Mossy Oak Nativ Living Collection features furniture, home decor and accessories built with nature in mind with or without camouflage patterns.
"We are very excited about our partnership with Mossy Oak" says Stephen Brumfield, Log Cabin's National Director of Sales & Marketing. "Together we will bring great products to market like no other."
Both companies share a focus on conservation and a passion for living the great outdoor lifestyle. Together they bring Nativ Living for cabins, homes and structures to log and timber home and cabin enthusiasts worldwide.
The Original Log Cabin Homes is the industry leader in its offering of native wood species such as Cedar, Cypress, Douglas Fir and Pine for its log, timber frame and post and beam building package shipped throughout the United States and around the world.
Mossy Oak® Nativ Living™ is for those who are drawn to the beauty of nature and whose passion for the outdoors inspires them to bring those elements into their home. Using textures, colors, elements and designs inspired by nature, Mossy Oak® Nativ Living™ offers a variety of products to complement any cabin, home or lodge. To learn more, visit www.mossyoak.com.
NEW YORK, NEW YORK !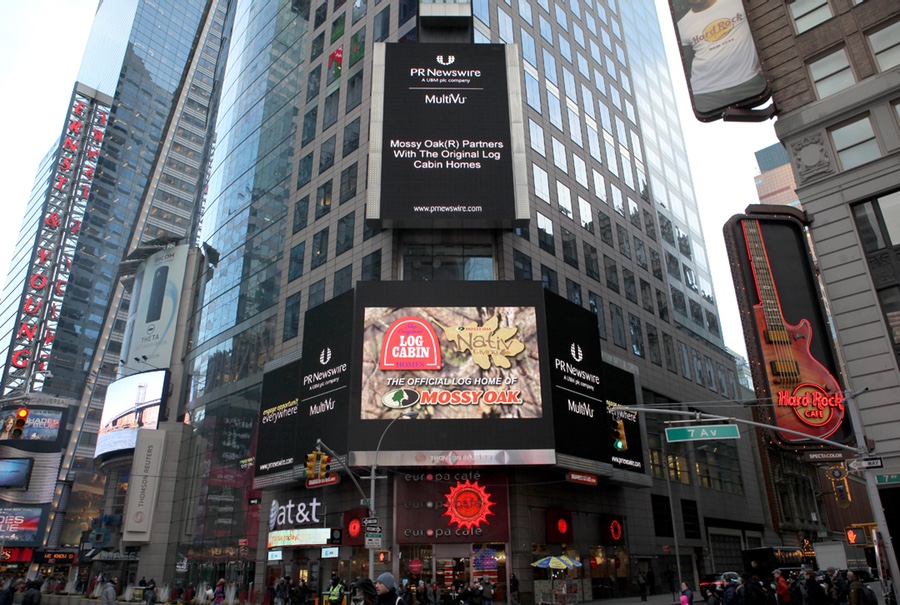 Mossy Oak® / Log Cabin Homes Announcement Hits Times Square
The January 15th, 2016 announcement about the partnership between Mossy Oak and The Original Log Cabin Homes hits Times Square as this historical moment in the log home industry is set in motion. The PR Newswire press release that was released by Log Cabin Homes was highlighted on the jumbo screens on January 18th, 2016.
"Frank Sinatra once sang, If I can make it there, I'll Make it anywhere. Now we have made it there !"