How Wood Shapes the Look of Your Home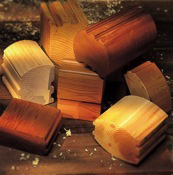 From rounded, whole log profiles to finished wood siding or the 12" thick Super Energy Logs, The Original Log Cabin Homes can manufacture a home that truly fits your vision. To ensure uniform quality, all log profiles are precisely contoured with one pass through our automated state-of-the-art precision milling system. Choose from this variety of log profiles in many different sizes to create a look that not only adds beauty and character of your log home but reflect your personality as well.








Custom Profiles Also Available! Log Sizes Up To 12" x 12"
Custom Joinery for a Perfect Fit
Custom joinery can determine the look and feel of and Original Log Cabin Home. Dovetail corners offer a more rustic appeal. Classic corners leave full profile logs exposed. Contemporary corners provide a more finished appearance. Swedish Cope corners reflect a traditional look, while Saddle Notch corners incorporates a distinctive and functional way of interlocking the logs. All these corner profiles are easily applicable to your Log Cabin Home and are accomplished with absolute precision at our timber joineries.