For more than 30 years, we have thousands and thousands of satisfied customers in all 50 states and in more than 80 countries around the world !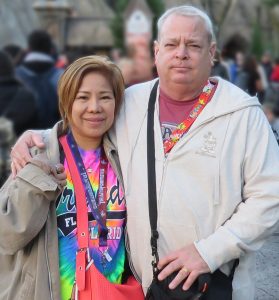 Alan and Alice
Since I first decided to purchase my log home from your company way back in March of 2021, I have been supported by Jenna G. as my customer representative.
To my delight she has been an extremely professional, has always answered any of my questions in a timely manner and has kept me informed of any changes that have occurred with the purchase.
I just wanted to commend her for a job well done. She is a credit to your company.
I will be taking delivery of the home package in December, so the end of this journey is near.
I thank you, Log Cabin Homes and especially Jenna for everything that has been done to make this a very good experience.
Alan M.
Valdosta, GA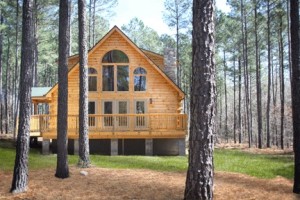 Dave & Connie
We purchased the Mayfield model log home from The Original Log Cabin Homes and the construction has been complete for approximately 1 year. We chose the "D" shaped logs and we continue to be impressed with the quality and uniformity of the logs. In the past year we have observed virtually no shrinkage or settling of our home. Visually the logs have a very uniform appearance. There are of course knots which enhance the look, but there is no extreme knotting that would affect the quality or look of the logs. We inspected the logs after delivery but prior to construction and found all of the machining of grooves and notches to be very good. As they are Pine logs there has been some sap weeping but it has been minimal at best and only on very few outside surfaces and never on the inside of the log. The logs are smooth to the touch on both the inside and the outside with no rough patches. All of the log surfaces on the inside (flat side) are flush with one another. The Original Log Cabin Homes process of weather stripping, caulking and attaching logs to one another seems to provide a very tight seal from the elements.
We look forward to many years of enjoyment of our dream home.
Sincerely,
Dave & Connie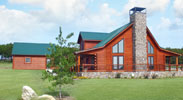 Dean Williams
Log Cabin Homes provided one of the best experiences of our lifetime. It's always been a dream to live in a Log Home and Log Cabin Homes provided us with many options. As we choose the Alpine Ridge floor layout , my wife and I changed the original floor plans many times. They were so accommodating when changing the features such as adding the fireplace, moving or adding windows, walls and other features of the original plan.
The delivery was easy and the Anderson windows are fantastic. The sales staff was great and they also invited me out to Rocky Mount, NC for a free log stacking course, which I took them up on.
People ask why did we build a Log Home? My answer is "ask me Sunday night when you leave".
"Living in a Log Home is like being on vacation" 7 days a week.
Dean Williams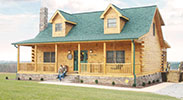 Jeff and Tosha,
Click here for More
Sunset Lodge - we had the name before we had even dreamed of how our cabin would look. When we were looking at the land to purchase, we met the neighbors who told us that many locals came to the end of the dead end road in the evenings to view the sunset. As we stayed there that evening and watched the sun go down, we understood why...it was the most beautiful sunset we had ever seen...setting over the pine trees that appeared as rolling hills. Sunset Lodge was born - Our little piece of Heaven on earth.
The idea of a log home had long been a dream for Wanda since she was a little girl and her father took their family each year to their one room hunting cabin in the Blue Ridge Mountains. As we began to look for a cabin supplier, we quickly decided that The Original Log Cabin Homes would be our partners. Not only did we love the cabins but their company's core values were also aligned with our personal values....honesty, integrity, respect for individuals and excellence in performance.
If you're looking for a family oriented partner to build your log home, we highly recommend The Original Log Cabin Homes as that partner. Jeff and Tosha both ROCK!
Frankie and Wanda Marshburn - Roanoke Rapids N.C
Mark,
Harry and I just wanted to say thank you for all of your kindness, generosity and honesty. As I am sure that you can imagine, all of this is a big step for us. We are glad that you have been such a critical part in the next chapter of our lives. The fact that you have been so helpful and informative the entire time has made this process much more comfortable for us. It has been a pleasure to work with you and we look forward to our future with you and The Original Log Cabin Homes. Thank you again!
Harry & Emily Blomstrand
Kathy ,
I would like to say thank you and I wish you the very best in terms of your success at Log Cabin Homes. You have been not only a great sales representative for your company, but I also want to mention that your team in St. Augustine is by far one of the best I have dealt with in terms of real estate management as well as providing excellent customer service. I will continue to recommend people to you in the future, and again, thank you so very much!
Kind regards,
Stephanie Bellwood
Aloha Barbara Muller,
My wife and I recently discovered the beauty of Log Cabin Homes. We are currently doing all the research necessary to have a smooth build out. Though we recently had a snag with our proposed land, I felt compelled to write this letter commending Tracy Ziegler.
Tracy has not only been very attentive to our needs, I have to express what a pleasure she was to talk to. Though we had to halt our purchase from your company due to a clouded title, she helped us find our dream home. Tracy listened to our needs and was able to execute our dream cabin. From start to finish, she was easy to work with, knowledgeable on the product, and followed through with our changes with diligence. Please know that once we get our land cleared (hopefully within 6 months) we will be following through with a purchase of the Original Log cabin Homes.
Mahalo Nui Loa
Dear "Original Log Cabin Homes"
I would like to take this opportunity to pass on our personal thanks to Brent Walker for his superb customer service as we navigated thru the maze of selecting the right company and the right product to supply our future dream home.
We started this process of selecting the company and floor plan several months ago. I meticulously examined every plan, every web sight, and every advertisement from magazines and the internet. The one key element that made the difference at every decision point when we talked, examined and graded our options was Brent. I have never experienced before from another company the responsiveness and sincerity Brent provided. Weekends, holidays, after hour workdays Brent was there either by phone or by email. Never did I have to wait and hear from Brent…never did I wonder what he meant when he emailed or discussed an issue.
You now have a very tough job ahead of you. Brent has set a very high standard in customer service. We look forward to the months ahead as we build our home because we know that people like Brent Walker are there ready to assist.
Sincerely,
Edward A Walby, Col USAF (Ret)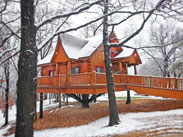 Winter in The Ozarks
As a partner in the Branson Cedars Resort project we were looking for a log home supplier that could handle our very specific design needs for the very first Log Cabin Tree house ever built on a totally freestanding steel and composite structure. Original Log Cabin Homes in Rocky Mount, NC not only met our standards as our supplier - they exceeded them!
Top quality is expected from a company like Tom Vesce's Original Log Cabin Homes, but what we were even more satisfied with was the level of service they provided and a commitment to helping us build this monumentally unique type of dwelling. Our first model is now almost 100% complete and we will be once again asking Tom and his team to help get it right as we continue to build out our 133 acre resort located in beautiful Branson, Missouri.
Thanks to Original Log Cabin Homes it's both safe and enjoyable as we like to say here in the Ozarks... "Living Life Out On A Limb!"
Michael Hyams/ Developer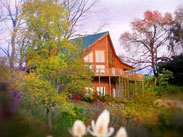 Brian & Heather
Brian and I both shared the dream of living in a log home. We started our journey in 2009 after we purchased the perfect piece of land. Already searching for the perfect log home, we bought every log home magazine we came across. Immediately after seeing the Alpine Ridge, we fell in love. We still began to search but we always came back to the Alpine. Reluctant to move forward we researched OLCH, then gave them a call. This is where the fun began.
We were in touch with Trudy Lamm, who was and is the most helpful person to date. Because of different situations, we were unable to make the trip to Rocky Mount, NC, however, Trudy put us in touch with an Alpine Ridge being built not far from where we lived. We made the trip, and it was worth every left turn we had to take. BREATHTAKING is the best way to describe it. We were in love. Made the call to Trudy and ordered the package the next day. We made a few changes to the floor plan which was a breeze with Trudy's help.
I brag on Trudy because for us it was hard to trust someone we couldn't see, but she made it easier. She was also extremely helpful, and extremely available. She worked with our schedules, if it be 9 a.m or 9 p.m. What she told us, we could believe. So if you are hesitant, stop here, you have found your honest place. We are now living in our cozy Alpine Ridge, and our dreams have come true. Our home is beautiful inside and out and we thank OLCH for making it all possible.
Brian & Heather
Tazewell, VA
David & Patricia Privette
To: The Original Log Cabin Homes
Dear Original Log Cabin Homes's staff,
We would like to extend a thank you for working with us during our journey. We thank you for the time and efforts in helping us with making our dream a reality. We would like to personally thank you and the entire staff at the Original Log cabin homes for an exceptional Log cabin package. We had searched other log home packages and found that the Original log cabin home package was one of the best offers.
We thank God for directing us to the Original Log cabin homes. Our home is presently being built. It is so exciting and we cannot wait to move in.
We are so thankful we purchased our home from your company. We thank the Lord daily for his blessings on us and we thank God for favoring us through the process of purchasing our new home and directing us to the original log cabin homes.
Sincerely,
David & Patricia Privette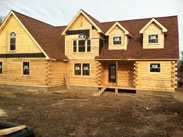 Vivian Sandor
I first started my journey with The Original Log Cabin Homes a couple of years before I ordered, just looking and admiring the web site and dreaming of constructing a log cabin for my home. I was of course apprehensive about ordering such a large purchase through the internet, so I turned to Log Cabin to guide me and connect me with people who either owned or worked with their product in my area.
This was very beneficial in helping ease my fears, after all we are talking about a large investment, so now in turn, I would like to offer my experiences with others considering purchasing a log cabin home from The Original Log Cabin Homes.
The first phase of the journey began when I decided on the style of the home, when the blueprints arrived I found that I needed to do some adjusting to the size and I wanted to completely flip the home so the garage was placed on the opposite side. This task was handled by Log Cabin and the adjustments were made with ease. Then, I won't kid you, the process in my area of obtaining building permits, etc. was not an easy road, with that said, Log Cabin was right there with me connecting with my contractor, and myself, in checking and double checking what was needed, and the proper adjustments to size of logs, framing, etc. were made. I couldn't have made it through that phase without The Original Log Cabin folks having my back.
Now after obtaining all the approvals and building permits I was ready for the delivery, and just like that 18 wheeler trucks delivered the wrapped materials (staggered of course with that was needed first), then the construction was underway. I can't tell you how awesome it was watching the logs interlock together as it formed the walls of my new home. I live close to a gateway through the state and seeing the amount of people interested in the house, receiving complements, and asking permission for a closer look. This is just when I am on site, my builders' say it is crazy the amount of people interested and remarking on the home. Many have expressed an interest in building one, and I have highly recommended The Original Log Cabin Homes to them all. Directing them to the web site but, they can see for themselves the high quality in the logs, and just how beautiful and strong these homes are.
I can't thank The Original Log Cabin Homes and Tosha Aldridge enough for making my dream a reality and providing me with exceptional customer service going above and beyond with their commitment to me, whether it was our communications through endless amounts of phone calls,answering all my questions or addressing each and every one of my e-mails. The Original Lot Cabin staff is truly honest, they provide their customers with the attention we deserve, and are truly wonderful people enduring at times my craziness and easing the stress associated with the building process. My home is not complete to date, construction continues since this past summer was ridden with rain, hurricane, and even a little earthquake, but I look forward to the new spring and completing my home, as I just love it now, and can't wait to see it finished. Not only did The Original Log Cabin Homes provide an incredible log cabin, their staff was there to back it 100%.
Vivian Sandor
Connecticut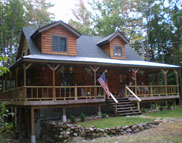 Lillian Wider
We had originally found The Original Log Cabin Homes online, a bit skeptical, we decided to purchase the Home Package in Dec 2003 and hope for the best. To our surprise and relief, this was an actual reputable and recognized company. Our original contact, Steve Brumfield was a pleasure to work with, holding our hands through the process from the original purchase, to custom design and delivery. Sallie Overton a customer service rep we were put in contact with, helped us keep in touch with all people who we needed, and guided us through all steps making our project move along quickly and uneventfully.
We took delivery August 2004. The Delivery day, the driver was actually one time, and even called us to give us a heads up that he was an hour away. All materials were wrapped and packaged so nice and weather tight we felt guilty opening up the bundles to see our new gift. All materials were beautiful clean and neat and marked clearly. Upon building the home the instruction that we received from the company made building the home ourselves easy and fun. the logs all went together very snug and had plenty of caulk and weather strip to build the home right. The Original Log Cabin Homes did not skimp a bit.
We have been Living in our New Log Home since late September 2005 any WE LOVE IT, it is every thing we dreamed of and wanted and MORE. We were leery of the hype of how energy efficient log homes were suppose to be, well they are SUPER ENERGY EFFICIENT. Our Log home is in the Deerfield valley Vermont which is is the mountains and it gets COLD, single digits for days, and the log home holds the heat in like a loving hug from Grandma. Since September 2005, and now are in March 2009, we are STILL working off the same 200 gallons of heating oil since we originally moved in new in Sept 2005. We live there 3 and half days a week every week year round. We do use a wood stove to primarily heat the home when we are there and use about a cord and half to 2 cord yearly, but between the open floor plan of our 1746 sq ft 3br 2 ba home and the unbelievable energy efficiency of The Original log Cabin Homes Logs, we feel we have cheated the oil companies out of our hard earned money. ( BOO HOO )
We highly recommend The Original Log Cabin Homes, from customer service to delivery, materials to energy efficiency, it is a honest no brainer which company we are going to use when we build our next log home. Another we will proudly build ourselves. You will be happily satisfied.
Lillian Wider and Rich Grzegorczyk
Vermont
Happy Original Log Cabin Home - Homeowners Since 2005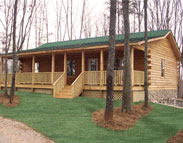 Chance and Tracy Bernard
Mark, I want to personally thank you and the entire staff at Original Log Cabins for a Great Log Cabin Package. My experience with your company has been exceptional throughout each phase. Our second home has turned into the perfect get away for the whole family. I would definitely order another package from Original Log Cabins when we are ready to build again. Thanks again..... Chance ,Tracy and family!
Chance Bernard
Virginia.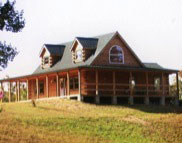 Mr. & Mrs. Joey Lester
Jules, We thank you for your time and your efforts in helping us with our new log home. We moved into the home in March, 2008 and are so absolutely happy and in love with it.
You and my customer service representative, Tina have been a great blessing to our family. Because she owns a log home herself, I think she was able to help me so much better.
I have had many people ask about the home and your company. I have told all of them that if they ever consider purchasing a log home from a company that was not willing to work with their budget then they are talking to the wrong company. They've got to know what they want in their home and cannot be afraid to ask. You all have been so helpful and were able to meet every expectation we have had.
We love the building system your company uses. It is more efficient that we originally anticipated. Our last utility bill for our 2,000 square foot home was around $64.00.
For us, Buying and building a Log Home was the second biggest decision we have ever made, short of getting married. Our home defines who we are and it is a reflection of our character. We are so glad we purchased our home from your company. We thank the
Lord daily for his blessings on us.
Thank you!
Dolly Lester
West Virginia.