Click a model below to view or download a PDF information sheet.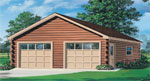 The Bunyan Series
The Bunyan Series garage packages is our most popular because of the many sizes available. Choose from a 1 story or 1.5 story models in various sizes from 1 car to 3 car. Whats more is that each model can be modified to suit your needs.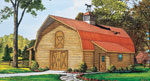 The Gambrel
This 36X25 gambrel roof style barn is very spacious with its 20X25 storage area, 20X25 Loft and two 8X15 rooms off to the sides.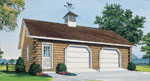 The Garage
The 22X30 Garage is a 2 car garage with a restroom and a small kitchenette.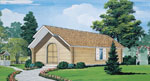 The Gardner
The 20X25 Gardner is a beautiful structure that can be used for a wide variety of uses such as a workshop, studio or simply just storage.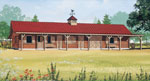 The Stable
The Stable comes in two standard sizes designed for a 3 stall or a 6 stall stable with tack, feed and office space.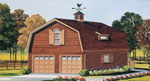 The Studio
The 24X24 Studio is a spacious 2 car garage with a full studio apartment above.