Over the last century technological innovations have been implemented into log homes which have enabled the industry to build ever expanding log home design options. One of the major innovations has been Laminated Veneer Lumber, or LVL's. Laminated lumber enables us to design homes with large open designs that simply would not have been possible a few decades ago. Original Log Cabin Homes has been working with some of the main LVL suppliers as well as designers to take advantage of this unique and beautiful log technology.
Laminated Veneer Lumber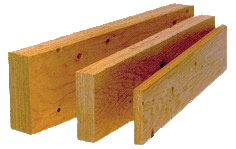 LVL beams have a wide variety of benefits but some of the major points are higher deflection ratings which gives our log home designers the ability to support loads that conventional lumber cannot safely accommodate. In fact when using double or triple LVL's; it has been shown in industry testing that the load carrying capacity rivals even steel construction methods. LVL beams go through a stringent construction process and are constantly examined and reexamined for quality and to insure each log meets its promised load bearing capacity. An LVL beam is constructed using a chemical process that allows us to attach multiple layers of high intensity strength veneer. LVL beams like many high quality materials are a composite design giving us more strength by using varying materials. Think of how your windshield works; since your windshield is layered and has materials inserted between those layers it becomes stronger to resisting high powered impacts. The same works for LVL beams except our composite beams give us strength when it comes to loads and increases exponentially as you increase the amount of LVL's.
LVL beams are great for open log home design plans, just ask a representative for more details!
I-Beams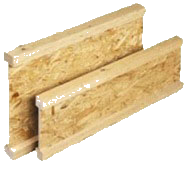 I beams are another great way to increase area within your log home but, unlike an LVL beam I beams work to add support over an entire area rather than just key structural points. I-beams are also known as "silent" floor systems by reducing the amount of physical tension in the floor system. In cases where you have increased your span more than conventional lumber can carry safely; an I-Beam system can be utilized. I-beams are more cost efficient than LVL's; when they can be substituted; giving you a more cost efficient budget to work in when developing your log home plans. I-beam roof systems excel when used to span distances that conventional lumber cannot.
An I-beam floor system is always a good choice for a log home design, just ask your sales representative for more details.
Trusses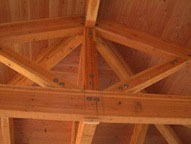 If there is one thing that makes a roof a roof it's the truss system you decide to go with when deciding upon your final log home design. Original Log Cabin Homes has varying truss designs to accommodate any design issue we may come across when serving you. Trusses enable you to have the vaulted ceiling effect so often desired in today's log homes enthusiast. We can adjust a truss size to suit your needs if a vaulted ceiling is not your preferred choice. Trusses can be designed in a myriad of ways from traditional, to gothic; to Victorian we can help you.
Logs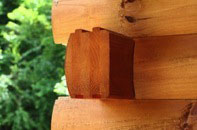 Laminated logs are not just for increasing structural stability of our log homes; in fact laminated logs are often commended by both the industry and our customers for their resilience to checking and cracking. Since laminated logs are constructed using kiln dried materials it has significantly less shrinkage. Less shrinkage helps to reduce settling; which can cause undesired creaking and groaning within your log home. And with the added structural stability of laminated logs you can be sure that your log home will last for years to come. When using laminated logs you also get the security and comfort of knowing we milled our logs to YOUR specifications, according to your log home plans.
Trex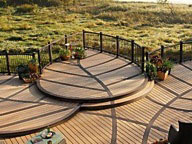 There are two things that define summers; its vacations in your log home and performing maintenance on your deck. For years people have had to cope with the seasonal maintenance to keep their decks looking fresh and new. Well now you can enjoy the beauty of a deck without the encompassing hassle of maintenance. Trex is another composite material that uses environmentally safe reclaimed wood and plastic to form your decking. This process gives it a near impervious finish and needs little or no maintenance. Trex decking gives you everything you want and not everything you don't. You can still relax by the pool or grill out without the nagging aggravation of insects, UV damage, splintering or even toxic chemicals that can damage our ecosystem. And with no need for staining or repairing you can be sure that summers will be spent enjoying your new deck not working on them. Trex comes in a variety of styles and colors, be sure to ask your sales representative for details.
Timber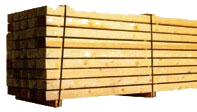 Many of us wish for that living room that seems to expand into the distance, but that comes at a price. The more an area expands, so must the support beneath it.
Laminated Veneer Lumber (LVL) is manufactured by gluing together a number of layers of veneer. Smaller pieces allow for smaller trees to be used, but still maintain the integrity of traditionally milled logs. Defects in trees are removed and only healthy, strong pieces are used in the manufacturing process of our log homes.
Offering more load-carrying capacity and spanning ability are reasons that LVL's are been used more and more each day in the log home design process. Resistance to shrinking, twisting and warping also compliment these LVL's.
So design that dream log home of yours that has a 500 square foot living room, we can support you.