When it comes to creating a bedroom that exudes warmth, comfort, and a deep connection to nature, log cabin bedroom décor stands in a league of its own. The marriage of rustic charm and cozy elegance creates a space that invites you to unwind and escape the demands of modern life. Together we will explore a variety of creative ideas to help you transform your original log cabin bedroom into a haven of relaxation and style.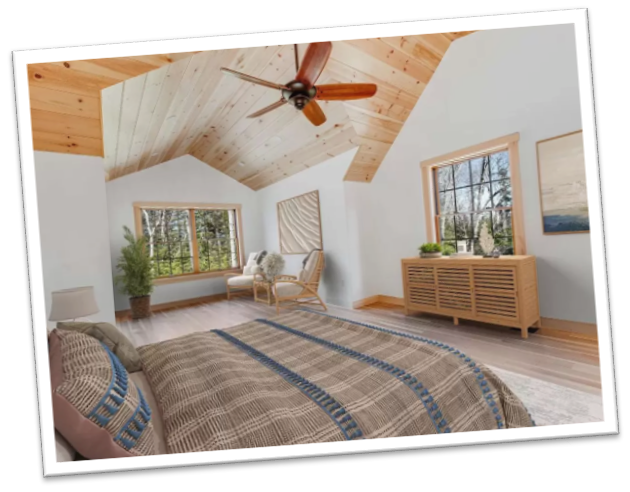 Start by selecting a color palette that reflects the natural beauty of the outdoors. Earthy tones like warm browns, deep greens, and serene blues create a calming backdrop for your space. Consider using natural wood paneling on the walls or ceiling to enhance the cabin ambiance, and complement it with soft, neutral hues for bedding and upholstery.
The hallmark of log cabin décor is the use of wood in its most authentic form. Integrate reclaimed wood furniture pieces such as a sturdy bed frame, a rustic nightstand, and a charming wooden bench. These pieces not only infuse character into the room but also contribute to a sustainable and eco-friendly design.
A log cabin bedroom is all about coziness, and your bedding plays a crucial role in achieving this. Layer plush duvets, textured throws, and soft pillows to create a nest-like feel. Opt for patterns inspired by nature, such as plaid or forest motifs, to enhance the rustic charm of the space.
Incorporate various natural textures to add depth and tactile appeal to your bedroom. Faux fur rugs, knitted blankets, and woven baskets can introduce a sense of comfort while maintaining the cabin's organic theme. These textures invite touch and create a sensory experience that soothes the soul.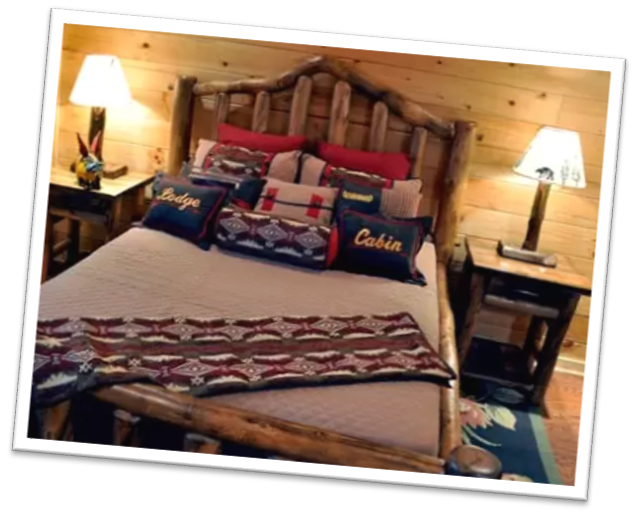 Craft a warm and inviting ambiance with carefully chosen lighting fixtures. Consider installing a wrought iron chandelier or a set of vintage lantern-style pendent lights to illuminate your space with a touch of nostalgia. These fixtures not only provide illumination but also serve as eye-catching décor elements.
If your log cabin features a fireplace, transform the area into a cozy reading nook or a relaxation corner. Position a comfortable armchair or a cushioned bench nearby, adorned with soft cushions and throws. This corner becomes a perfect spot to unwind with a book or simple bask in the warmth of the fire.
Add personality to your log cabin bedroom with carefully chosen décor accents that celebrate the great outdoors. Wooden wall art, antler motifs, and botanical prints can infuse your space with a sense of adventure and natural beauty.
If your log cabin is situated in a scenic location, make the most of it by arranging your furniture to face the window. Large, panoramic windows not only flood the room with natural light but also provide breathtaking views of the surrounding landscape. Wake up to the sight of towering trees, rolling hills, or snow-covered peaks.
Log cabin bedroom décor allows you to create a retreat that encapsulates the spirit of nature while enveloping you in comfort and style. By embracing rustic elegance and integrating natural elements, you can curate a space that invites you to unwind, reconnect, and find solace in the serenity of the great outdoors, all within the walls of your log cabin haven.
Posted Date August 14, 2023
Written By Hannah Garciga