There's something undeniably charming and timeless about log cabin living. Nestled amidst nature's embrace, these rustic havens offer a unique sense of warmth and tranquility. One of the key elements that contribute to the inviting ambiance of a log cabin is the choice of interior colors. Together we will explore the world of classic log cabin living and explore the best colors to enhance the beauty of your rustic retreat.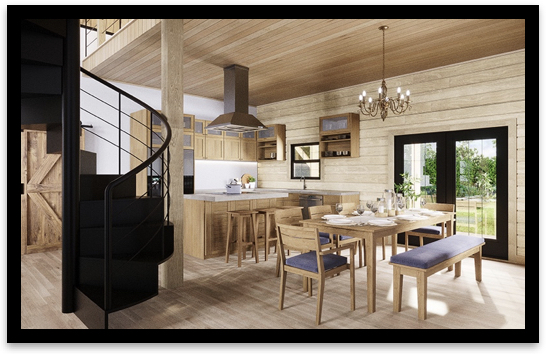 Earthy Tones: Connecting with Nature
When it comes to log cabins, early tones take center stage. These colors bring a sense of grounding and harmony to the interior space, creating an instant connection with the surrounding natural environment. Shades of warm browns, rich greens, and deep oranges evoke the essence of the forest, while maintaining a cozy and inviting atmosphere.
Warm Neutrals: Embracing Simplicity
Neutral colors are a staple in log cabin aesthetics. Warm beige, soft cream, and light tan hues exude simplicity and elegance. They provide a versatile backdrop for wooden accents and allow the natural beauty of the cabin's construction to shine through. These colors create a sense of timelessness, making your log cabin a retreat that transcends passing trends.
Rich Reds: Adding a Touch of Rustic Elegance
If you're seeking to infuse your log cabin with a touch of drama, consider incorporating rich red tones into the interior. Deep burgundies and warm brick reds add an element of rustic elegance to your space. Use these colors sparingly an accent walls or in accessories, such as throw pillows or curtains, to create visual interest and a focal point within the room.
Cool Blues: Invoking Serenity
While earthy and warm tones dominate log cabin interiors, cool blues can introduce a serene and refreshing vibe. Pale blues reminiscent of clear skies or tranquil lakes can be incorporated in upholstery, bedding, or even as a subtle accent on walls. The juxtaposition of these cool hues against the warm wood tones creates a calming retreat that soothes the senses.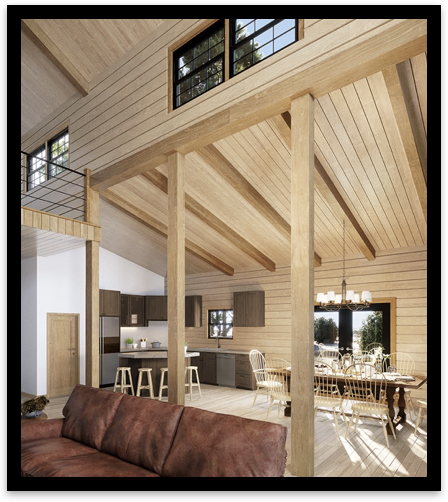 Natural Greens: Celebrating Nature's Palette
Log cabins are all about celebrating nature's beauty, and what better way to do that than by embracing natural greens? Sage, moos, and forest greens can infuse you log cabin interior with a sense of freshness and vitality. Whether used in upholstery, curtains, or as wall paint, these colors bring the great outdoors inside, creating an immersive experience that reconnects you with nature.
Classic log cabin living is an enchanting lifestyle that offers a respite from the fast-paced world. Choosing the right interior colors plays a pivotal role in creating a harmonious and inviting atmosphere. From earthy tones that connect you to nature, to warm neutrals that exude simplicity and elegance, and rich reds or cool blues that add a touch of personality, the options are vast. By carefully selecting colors that resonate with your personal style and the cabin's surroundings, you can transform your log cabin into a timeless sanctuary, where you can relax and unwind in the lap of nature's beauty. So, let your creativity flow, and embark on a colorful journey to enhance your classic log cabin living experience.
Date Posted July 24, 2023
Written By Hannah Garciga