By Hannah Garciga
There's something undeniably magical about spending evenings outdoors, surrounded by the serene beauty of nature. And what better way to enhance their experience than by gathering around a warm and inviting fire pit? If you're thinking of getting one or you already own an Original Log Cabin Home, adding a fit pit to your outdoor space can elevate your relaxation and entertainment opportunities to a whole new level. Together we are going to explore the joys of having a fire pit outside your Original Log Cabin Home, from creating an ambiance of rustic charm to providing a gathering spot for memorable moments with family and friends.
Embracing Nature's Warmth
One of the most enchanting aspects of a log cabin home is its connection to nature. By incorporating a fire pit into your outdoor living area, you can enhance that connection even further. The crackling flames, the dancing shadows, and the cozy warmth of a fit pit create an ambiance that's unmatched by any other outdoor feature. Whether you're enjoying a quiet evening alone or hosting a gathering, the fire pit provides a sense of togetherness.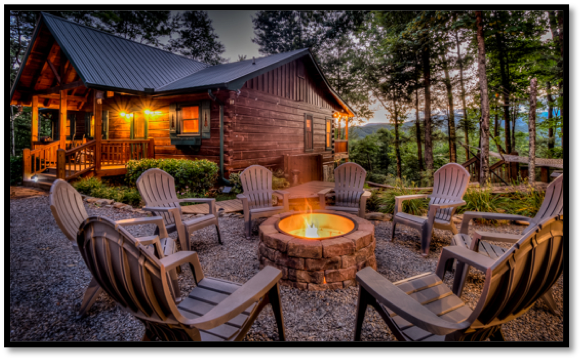 Rustic Charm and Aesthetics
A fire pit outside a log cabin home epitomizes rustic charm. The combination of the natural beauty of the log cabin and the organic appeal of an open fire creates a picturesque scene straight out of a storybook. The fire pit can be designed to complement the architectural style of your cabin, using stones, bricks, or other natural materials that blend seamlessly with the surroundings. This harmonious fusion of elements adds an authentic touch to your outdoor space and creates an inviting atmosphere for relaxation and socializing.
Extended Outdoor Living
A fire pit extends the usability of your outdoor space, allowing you to enjoy the beauty of nature even when the temperatures drop. With a well-designed fire pit area, you can comfortably spend evenings outside, even during cooler seasons. Whether you're roasting marshmallows, sharing stories, or simply basking in the warm glow, a fire pit creates an intimate and cozy setting that encourages you to make the most of your outdoor living area.
Socializing and Bonding
Few things bring people together like gathering around a fire. Whether it's a family gathering, a friendly get-together, or a romantic evening for two, a fire pit sets the stage for memorable moments and meaningful conversations. It creates an inviting atmosphere where stories are shared, laughter is echoes, and relationships are strengthened. The simplicity and timelessness of sitting around a fire provide the perfect backdrop for forging lasting bonds with loved ones.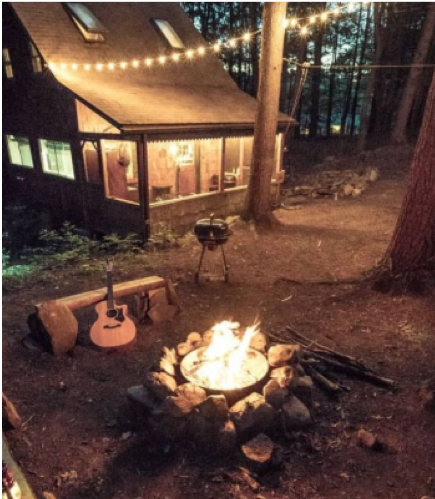 Versatility and Outdoor Activities
Beyond its aesthetic appeal and social benefits, a fire pit offers a multitude of practical uses. It can serve as a source of warmth during chilly nights, allowing you to extend your outdoor activities. From stargazing and enjoying a hot cup of cocoa to engaging in outdoor cooking, such as grilling or making s'mores, a fit pit outside your log cabin home opens a world of possibilities. You can even turn it into the centerpiece of outdoor gatherings, hosting cozy outdoor movie nights or evening celebrations.
Adding a fire pit to the outdoor space of your log cabin home is a wonderful way to enhance your connection with nature, create a cozy ambiance, and foster meaningful relationships. The combination of rustic charm, extended outdoor living, and versatile functionality makes a fire pit an invaluable addition to your log cabin experience. So, embrace the crackling flames, gather your loved ones, and create cherished memories around the warmth and beauty of a fire pit outside your Original Log Cabin Home.