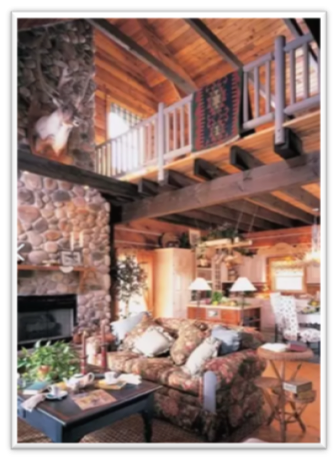 The Original Log Cabin Homes exude a rustic and cozy appeal, where the warmth of wood and the beauty of nature blend seamlessly. To enhance the charm of these homes, the choice of light fixtures plays a pivotal role. Together we will explore how carefully selected light fixtures can transform a log cabin into a haven of comfort and style.
Embracing the Rustic Aesthetic
Log cabin homes celebrate the beauty of natural materials, and light fixtures should follow suit. Opt for fixtures that incorporate rustic elements like wrought iron, antlers, or repurposed wood. Chandeliers with distressed finishes or lantern-style pendants can become captivating focal points, adding a touch of vintage elegance. By embracing the rustic aesthetic, these fixtures not only illuminate the space but also accentuate the natural appeal of the log cabin.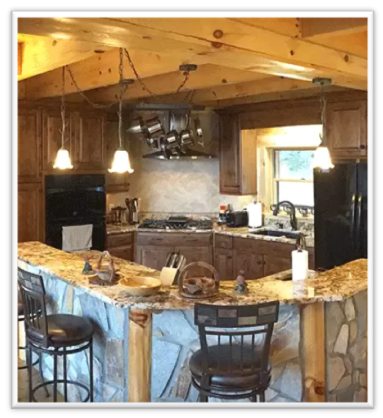 Harnessing Natural Light
One of the hallmarks of log cabin homes is their ability to invite the outdoors in. Harnessing natural light becomes essential in these spaces, creating a warm and welcoming atmosphere. Opt for large windows and skylights to maximize daylight. Complement these natural light sources with strategically places light fixtures that enhance the play of light and shadow. Wall sconces or recessed lighting can be used to create a soft glow, while floor lamps can provide task lighting for reading nooks or cozy corners.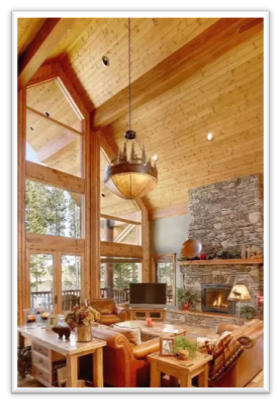 Cozy Ambiance in Living Spaces
In the living spaces of a log cabin, the aim is to create a cozy ambiance where family and friends can gather and relax. Pendant lights or chandeliers with warm-toned bulbs can be hung above dining tables or in living room areas, casting a gentle, inviting glow. Table and floor lamps with fabric shades can further contribute to a soft and comfortable atmosphere. Consider dimmers to adjust the light intensity, allowing for versatility in creating the desired mood.
Enhancing the Kitchen and Dining Areas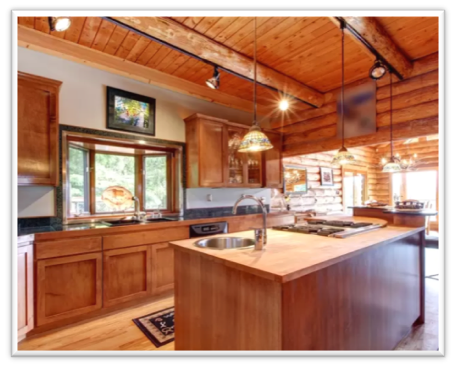 In the heart of any log cabin home, the kitchen and dining areas are spaces where functionality meets style. Opt for pendent lights above the kitchen island or countertop, blending task lighting with decorative accents. Rustic inspired fixtures made from metals like copper or bronze can add a touch of elegance to these areas. Over the dining table, a statement chandelier with a natural or organic design can create a focal point and elevate the rustic charm.
Light fixtures have the power to transform log cabin homes into enchanting retreats, enhancing their natural light, and carefully selecting fixtures for each space, homeowners can create a haven that perfectly balances warmth, style, and functionality in their log cabin oasis.
Post Date: June 19, 2023
Written by Hannah Garciga