August 1, 2021
Rocky Mount, North Carolina
Stephen Brumfield, Vice President – The Original Log Cabin Homes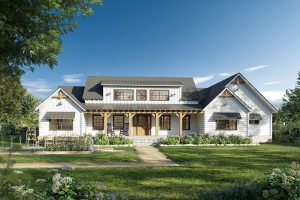 It's the passion for Old Americana that made The Original Log Cabin Homes create their newest line of log & timber Homes… The Farmhouse Collection Log & Timber Homes. This collection combines the look, feel and charm of Old American Farmhouses and the New Modern Style Farmhouse that so many desire today. This look, coupled with the energy performing properties and the beauty of log homes, takes this collection to a whole new level.
The product launched on July 1, 2021 on the company's website and its social media accounts. The Farmhouse Collection is first of its kind in the Log Home Industry and is offered in Western Red Cedar, Bald Cypress and Eastern white pine and is available in log sizes up to 12 inches. The enhanced features of the porches along with the classic farmhouse dormers and layouts give these log homes that beautiful modern farmhouse twist. The Original Log Cabin Homes launched an initial 9 model floor plans in their introductory offering and intends to introduce more in the coming months.
"The farmhouse is one of the most popular trends sweeping through the housing market as a whole. Finding a way to blend this popular style and the log home is something we've wanted to do for a while. It's a niche within an already niche marketplace and we are very proud to have brought this product to market. We have already seen a large amount of interest and expect this new product line to amount to a considerable portion of our business." – Stephen Brumfield, Vice President
The Farmhouse Collection Log & Timber Homes are priced similarly to the company's normal product offering. This collection ranges from the smallest at 1,144 square feet to the largest at over 3,200 square feet and is fully customizable.
The Original Log Cabin Homes is also the Official Log Home of Mossy Oak®. These two legendary brands have come together to create the "Mossy Oak® Nativ LivingTM Edition" of Cabins, Homes and Structures. This edition is available on any Log Cabin Homes model or custom designs and can also be added to the Farmhouse Collection as well. The Mossy Oak Nativ Living Edition will have unique features and design elements inspired in the Mossy Oak tradition that is not available in the standard offerings by The Original Log Cabin Homes. Each Mossy Oak Nativ Living Edition structure will come with a distinctive wall-mounted metal plaque for displaying is special edition status.
About The Original Log Cabin Homes Ltd.
The Original Log Cabin Homes has been manufacturing Cedar, Cypress and Pine Log Homes since 1987 and has become an industry leader in its offering of native wood species for its Log Home building package sold and shipped throughout the United States and around the world. Log Cabin Homes will use its worldwide network for the distribution and sales of this new product line.
The Product line can be viewed at www.farmhouselogcabins.com