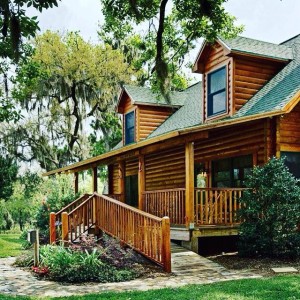 New Year, New You, New Plan! Every New Year I go around my house cleaning, organizing, and working on any maintenance needs. My home is an investment and I want to keep it functional and beautiful. So whether you're about to build your dream log home or working on keeping your home fresh and new we are here to help. Some clients are very concerned about the upkeep of log home living, but the upkeep of a log home may be easier then you think. It's definitely no more time consuming than any other conventional home. Design your home with the maintenance future in mind; our professionals know how to keep your logs in top conditions through out the decades to come. Designing your home with large overhangs, porches, proper landscaping, and tall foundations will prevent maintenance nightmares.
The most important thing in maintaining your log home is keeping it clean and dry. Keeping your logs dry and off the ground, they can last, at the very least, a lifetime and most likely for generations to come. Keep a maintenance plan and always plan on washing your home once a year to remove all pollen, dirt, and other airborne pollutants that may have settled on the surface. A garden hose will remove most unwanted contaminants without hurting your home's finish. Many of the cleaners today, that you can easily pickup at your local hardware store, are not suited to clean your log home. They contain harmful chemicals that harm your finish as well as your landscaping. Bleach is also not recommended in cleaning the wood of your home. For our homes, we recommended the company Perma-Chink systems (www.permachink.com). This highly reputable company carries top notch products that are efficient to clean and stain your logs, keeping your home strong and beautiful.
Creating a simple maintenance plan for your home will eliminate the need for more expensive maintenance needs as time goes on. We have provided a pdf checklist from Perm Chink below to keep it simple for you. Your home will love you for it. Have a happy and blessed new year.
Until Next Time,
Jennifer