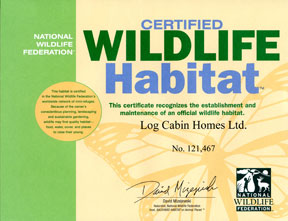 National Wildlife Federation Certifies New Wildlife Habitat at The Original Log Cabin Homes Ltd.
The National Wildlife Federation® (NWF) announces that the property of Log Cabin Homes Ltd located in Nashville, NC is now recognized as an official Certified Wildlife Habitat site. The property attracts a variety of birds, butterflies, deer, fox, beaver, raccoon, geese, duck & other waterfowl, egret, crane and other wildlife, while helping to protect the local environment. It's well rounded atmosphere provides source of food & water, Nesting and bedding grounds, foilage and dense tree cover. In the center of this property there are two bodies of water that are duly called by the locals as "Twin Lakes."
In keeping with the company's passion of preserving the spirit of the American West, this property also serves as the home for the company's herd of American Buffalo which has been adopted as their living symbol. Over the years the herd has grown to over 100 head and the company has established a breeding facility to perpetuate the species and preserve this great American icon.
Bison once roamed the plains of the West in plentiful herds, but neared extinction in the late 1800's. The number of bison alive at the turn of the century was estimated to be less than 1,000 animals. Thanks to supporters such as The Original Log Cabin Homes, the bison is making a successful comeback. There are now more than 200,000 bison in public and private herds in the U.S. and Canada.
Through the work of The Original Log Cabin Homes and their dedication to the American Bison and to this Wildlife Habitat, the Bison and many other species inhabit this refuge without interference!