For Service Excellence and Product Quality as a Key Home Manufacturer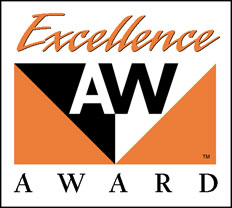 Rocky Mount, North Carolina
Andersen Corporation, which is the largest window and door manufacturer in the building materials industry, presented industry leader Log Cabin Homes Ltd., The prestigious "Symbol of Service Excellence and Product Quality Award" as a key home manufacturer using Andersen Products at a plaque presentation ceremony at its corporate headquarters in Rocky Mount, North Carolina.
"We are here today to recognize the strong commitment to quality and service that Log Cabin Homes brings to its customers as exemplified by its offering of our Andersen products," said Andersen Corporate Executive Courtney Smith.
He went on to say "We are proud to have our products featured in Log Cabin Homes. Their leadership in building beautiful homes with a commitment to craftsmanship makes them a leading log-home builder in this country and a great business partner."
At the award ceremony; both companies announced that Log Cabin Homes has been selected as the first log and timber home manufacturer to offer the "Certified Green" Andersen 100 Series windows.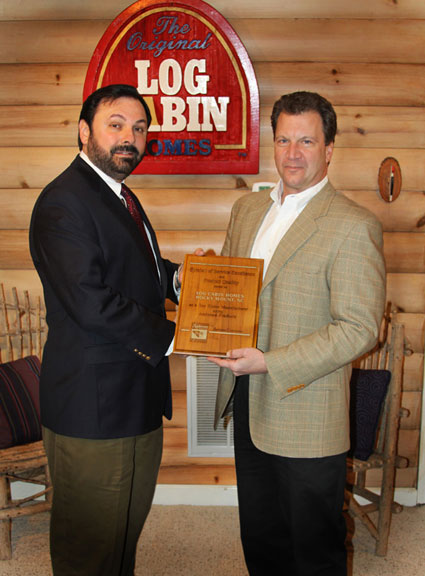 This news means that Log Cabin Home customers can now have world-class, energy efficient "Certified Green" windows in their homes and cabins.
"We are proud of this new opportunity to be the first to offer the 100 Series window" said Tom Vesce, President of Log Cabin Homes. He went on to say "This underscores our continued commitment to providing more green building product choices to all our customers."
Andersen 100 Series windows are made from patented Fibrex material that is a highly sustainable structural composite that blends the best attributes of sawdust and vinyl polymer – much of it reclaimed directly from the company's manufacturing plant operations. It combines the strength and stability of wood with the low maintenance features of vinyl. Independent testing has found that the material has a low thermal expansion and contraction rate, is resistant to rotting and termites and retains its rigidity and stability in high temperatures.
Reclaimed material is an important component in the construction of the 100 Series windows. Fibrex material features more then 43 percent pre-consumer recycled content, and the glass used in the 100 series windows contains more then 12 percent recycled cullet.
Fibrex material is durable, long lasting and can be reclaimed to make new windows, and the window products are protected by minimal packaging to help reduce cardboard usage, jobsite waste, and shipping costs.
As "Certified Green" manufacturers, Log Cabin Homes and Andersen Corporation are committed to using wood from sources certified by the Forestry Stewardship Council, Sustainable Forestry Initiative or similar organizations.
"Our relationship with Andersen goes back to the founding of the company, allowing us to offer the brand rated as highest quality and used most often by professional builders" said Log Cabin Homes Sales Director Stephen Brumfield
All reasons why Log Cabin Homes and Andersen are among the most trusted brands in the building industry today.
Additional information is available at www.logcabinhomes.com and www.andersenwindows.com