Log Cabin Homes recognized by GAF Materials Corporation for their Quality Manufacturing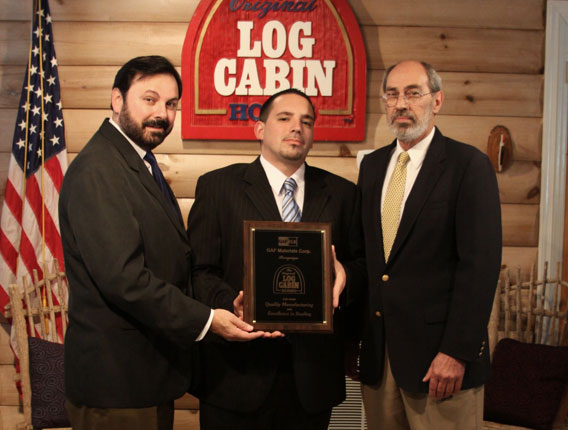 Rocky Mount, NC – May 27th, 2010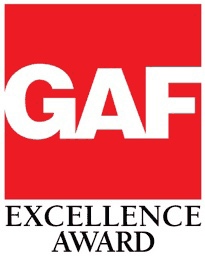 GAF Materials Corporation, the nation's leading manufacturer of roofing materials, presented Log Cabin Homes with an Excellence Award for their quality manufacturing as well as being a strategic partner in achieving roofing excellence for their use of GAF products during a ceremony at the Log Cabin Homes corporate headquarters in Rocky Mount, NC followed by an awards luncheon hosted by GAF.
"Log Cabin Homes has a strong commitment in providing top quality homes to their customers and we are a proud partner with them to have our roofing materials used in their homes," said GAF Materials Corporation Corporate Executive William McCourt.
"We are both honored by the recognition & proud to have GAF roofing protecting our homes & cabins from the top down," said Tom Vesce – Log Cabin President.
Both companies believe in smart manufacturing processes so they can provide a quality products to homeowners around the country. With this partnership, Log Cabin Homes' customers can rest assured that they are receiving the highest quality built homes on the market today.
ABOUT GAF
GAF Materials Corporation has grown to become the largest roofing and ventilation manufacturer in North America, with sales of nearly $3 billion annually. Its success is driven by a commitment to provide property owners and specifiers with their best and safest choice in roofing, and by helping supportive contractors and distributors to build their businesses and avoid hassles. Its products include a comprehensive portfolio of steep-slope roofing systems (marketed under the GAF-Elk's quality roofing products have been designed to work together for superior, long-term protection, and have been proven on literally millions of homes nationwide. They even carry the prestigious Good Housekeeping Seal – your assurance of exceptional quality and performance! To learn more about GAF-Elk or its products, please visit www.gaf.com.
###
ABOUT LOG CABIN HOMES:
Since 1987, Log Cabin Homes, The Official Log Home of Cabela's® has become one of the foremost log home and cabin manufacturers in the world. From cabins to castles, Log Cabin Homes provides standard or custom designs to fit your individual needs. Offering cedar, cypress and pine log home and cabin packages in log sizes up to 12 inches; Log Cabin Homes ships to all 50 states and more than 80 countries around the world. Call toll-free 1.888.562.2246 or visit The Original Log Cabin Homes Website at www.logcabinhomes.com for all the exciting details.
Original Log Cabin Homes Contact:
Stephen Brumfield
Director of Marketing and Advertising
Log Cabin Homes Ltd
steve@logcabinhomes.com
252.454.1519