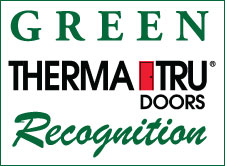 Rocky Mount, NC−April 15, 2010
Therma-Tru®, the nation's leading manufacturer of fiberglass exterior door systems, presented Log Cabin Homes Ltd. with a certificate of recognition for their strong commitment to building energy-efficient homes using Therma-Tru door systems during a presentation ceremony at the Log Cabin Homes' corporate headquarters in Rocky Mount, N. C.
"Log Cabin Homes' strong commitment to providing long lasting, energy efficient, environmentally responsible building products to its customers makes us proud to have our door systems in their homes and have them as a great business partner," said Therma-Tru District Sales Manager Grover Truslow.
Both companies have been practicing sustainability for over two decades by providing energy efficient products as well as manufacturing processes and corporate policies that reflect responsible environmental and community consciousness.
At the presentation ceremony, Log Cabin Homes announced that they will exclusively offer Thema-Tru's wood grain fiberglass entry door system as an alternative to steel or wood doors to all its customers.
"We are proud to have Therma-Tru as a strategic partner and to offer their door systems for our home and cabin packages," said Tom Vesce, President of Log Cabin Homes. "This again underscores our continued commitment to providing green building product choices to all our customers."
Therma-Tru was the first company in the building industry to introduce the fiberglass entry door over 25 years ago.
More durable and energy efficient than wood doors, fiberglass doors offer five times the insulation of wood due to their CFC-free polyurethane foam core. Therma-Tru doors are able to capture the look and feel of high-end wood products without harvesting endangered wood species like Honduran Mahogany.
Therma-Tru doors are also designed as a complete system with components that work together, ensuring a tight seal and additional energy savings. With over 94 percent of Therma-Tru doors ENERGY STAR® qualified and NFRC Certified, homeowners can save money on energy costs and protect the environment through superior energy efficiency.
Both Log Cabin Homes and Therma-Tru work to recycle materials during their manufacturing processes such as paper, plastic, cardboard, steel, propane canisters, wood, cut outs and scrap components.
In addition, many of the wood products used in the Therma-Tru door frame components come from managed forests by partnering with wood suppliers who meet sustainable forestry certification standards.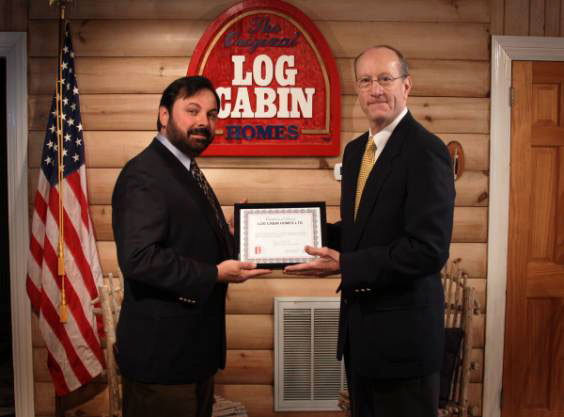 About Therma-Tru
Therma-Tru is the nation's leading manufacturer and most preferred brand of fiberglass and steel exterior door systems. Founded in 1962, Therma-Tru pioneered the fiberglass entry door industry, and today offers a complete portfolio of entry and patio door system solutions, including decorative glass doorlites, sidelites and transoms, and door components. Therma-Tru, headquartered in Maumee, OH, is part of leading consumer brands company Fortune Brands, Inc. (NYSE: FO). For more information on Therma-Tru, visit www.thermatru.com or call (800) 843-7628.
###
ABOUT LOG CABIN HOMES:
Since 1987, Log Cabin Homes, The Official Log Home of Cabela's® has become one of the foremost log home and cabin manufacturers in the world. From cabins to castles, Log Cabin Homes provides standard or custom designs to fit your individual needs. Offering cedar, cypress and pine log home and cabin packages in log sizes up to 12 inches; Log Cabin Homes ships to all 50 states and more than 80 countries around the world. Call toll-free 1.888.562.2246 or visit The Original Log Cabin Homes Web site at www.logcabinhomes.com for all the exciting details.
Original Log Cabin Homes Contact:
Stephen Brumfield
Director of Marketing and Advertising
Log Cabin Homes Ltd
steve@logcabinhomes.com
252.454.1519