Wells Fargo loan closing ceremony marks the official start of Log Cabin's "Special Project!"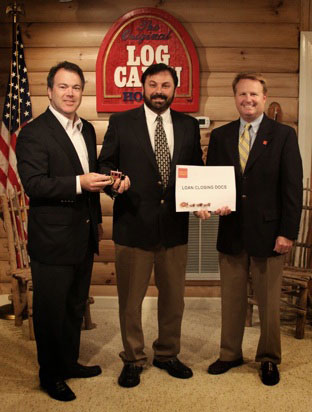 Log Cabin Homes and Wells Fargo Bank are no strangers to each other. Their multimillion dollar loan relationship goes back almost 25 years.
The "Special Project" loan not only attests to Log Cabin's credit worthiness and financial strength but speaks volumes of confidence that Wells Fargo has in the "Special Project" action plan created by the Log Cabin action plan team.
The "Special Project" action plan team, headed up by Log Cabin's Managing Director Ernest Vesce, will implement a three prong aggressive expansion into new markets, products and new facilities by means of acquisitions and ground breaking at new locations.
The details of the "Special Project" which are currently under wraps will be announced to the general public in a ceremony and press release on January 7th.
Wells Fargo Vice-President Chris Hobbs said. "We are excited about assisting Log Cabin Homes with their "Special Project" financing needs. As our Motto Says: Together We'll Go Far."
"Many thanks to Tom Vesce for his continued relationship with Wells Fargo. Thank you Log Cabin Homes for your business and support of our company!" said Wells Fargo Market President "Tem" Myers to the ceremony attendees.
After all the Wells Fargo speeches it was Tom Vesce's turn to say a few words. "I am very grateful for Tem to take the time out of his vacation to attend our loan closing ceremony.
As a traditionalist as well as a stockholder and customer of Wells Fargo Bank; I publicly forgive the vacationing Tem Myers for not wearing a tie and Wells Fargo lapel pin."
Vesce went on to say a few more words; "I appreciate the Wells Fargo cast iron stage coach gift but I really wanted the "Warren Buffet" version of the Wells Fargo stage coach."
Tem Myers quickly replied, "I'll work on that!"