Log cabin homes a unique charm that's hard to match. Nestled in the heart of nature, theses rustic retreats exude warmth coziness, and a connection to the great outdoors. Decorating a log cabin home provides an exciting opportunity to enhance the natural beauty of the wood and create a welcoming, harmonious space. Together we will explore various tips and ideas to help you adorn your log cabin in a way that celebrates its inherent rustic elegance.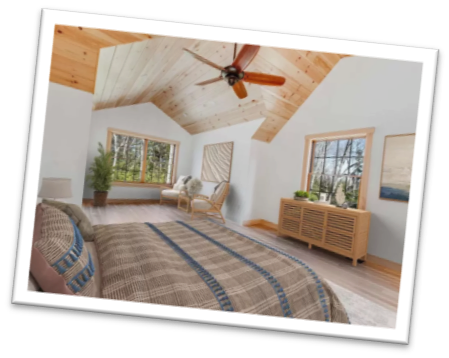 Embracing Natural Materials
The essence of log cabin decorating lies in using natural materials. Wood is the star of the show, so select wooden furniture, such as reclaimed barnwood or log furniture, that complements the cabins timber structure. Incorporate other natural materials like stone, leather, and rustic textiles. The goal is to create an authentic, nature inspired atmosphere.
Select a Cozy Color Palette
To maintain the cozy and inviting feel of a log cabin, opt for earthy, warm color palettes. Natural wood tones, deep browns, greens and warm greys can serve as the foundation of your color scheme. Adding pops of color through accents like throw pillows, curtains, and artwork can add character and personality to your space.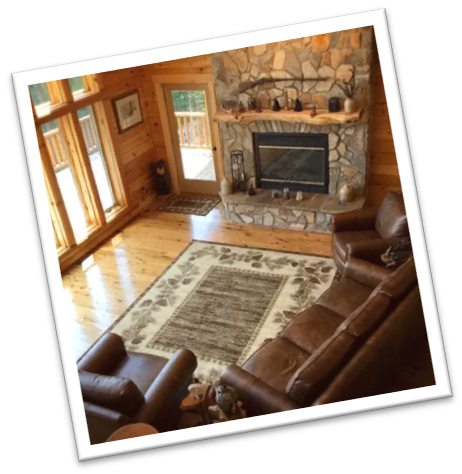 Highlight the Logs
The logs themselves are the canvas for your décor. Enhance their beauty by keeping them visible. Avoid covering your log walls with heavy drapes or wallpaper. Instead, use sheer or lightweight curtains that all the natural light to filter in while maintaining privacy. This will help your log cabin feel open and spacious.
Cozy Up with Textiles
Textiles play a crucial role in achieving a cozy and inviting atmosphere. Consider adding plush, soft elements like wool or faux fur blankets, area rugs, and throw pillows to your space. These items not only provide warmth but also soften the rugged look of the logs, making your cabin even more inviting.
Create a Focal Point
Every room needs a focal point, and in a log cabin, this could be a stone fireplace, a large wooden dining table, or a handcrafted chandelier. Ensure your focal point is both functional and visually appealing, tying the room together and providing a conversation piece.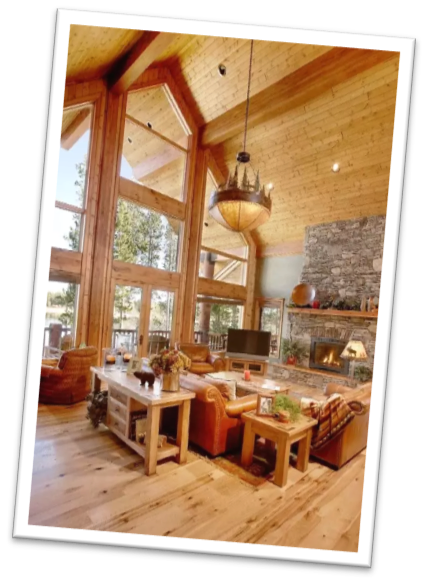 Rustic Lighting
Lighting can make or break the ambiance in your log cabin. To maintain the rustic charm, opt for fixtures made of materials like wrought iron, antler chandeliers, or lantern-style sconces. These options will not only provide adequate lighting but also contribute to the overall theme of your cabin.
Personal Touches and Collectibles
Add a personal touch to your log cabin by displaying family heirlooms, antiques, or unique collectibles. These items can tell a story and add character to your space, making it feel like a home filled with history and memories.
Incorporate Nature
Don't forget to bring the outdoors inside. Use natural elements such as dried flowers, pinecones, antlers, or tree branch décor to infuse your cabin with a touch of the wild. Houseplants can also breath life into your cabin, adding a refreshing contrast to the woodsy surroundings.
Decorating a log cabin home is an exciting journey that allows you to celebrate the beauty of nature and rustic charm. By embracing natural materials, creating a cozy color palette, highlighting the logs, adding textiles, creating a focal point, choosing rustic lighting, incorporating personal touches, and bring the outdoors inside, you can transform your log cabin into a warm, inviting, and harmonious haven. In doing so, you'll create a space that not only reflects your personality but also pays homage to the timeless allure of log cabin living. So, go ahead and let your creativity shine as you decorate your log cabin into the rustic retreat of your dreams.
Posted Date October 23, 2023
Written By Hannah Garciga