By Hannah Garciga
When it comes to log cabin homes, striking a balance between rustic charm and modern comfort is essential. A walk-in shower, with its blend of functionality and aesthetics, seamlessly fits into the ethos of log cabin living. Together we'll explore the unique benefits the practicality and natural allure of your sanctuary.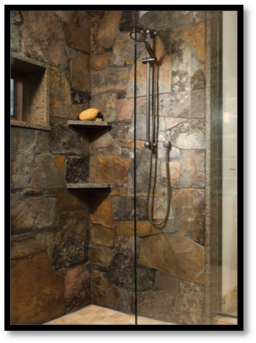 Embracing the Rustic Aesthetic:
A walk-in shower in a log cabin home embraces the inherent beauty of its surroundings. By using natural materials like stone, wood, or earth-toned tiles, you can create a seamless transition from the cabin's interior to the shower space. The combination of rustic elements and modern design allows you to maintain the cabin's interior to the shower space. The combination of rustic elements and modern design allows you to maintain the cabin's authentic feel while adding a touch of contemporary elegance.
Openness and Airiness:
A walk-in shower's open design adds a sense of spaciousness and airiness to your log cabin bathroom. Without the confines of traditional shower enclosures, your bathroom will fell more expansive and inviting. This open concept encourages natural light to fill the space, illuminating the beauty of the logs and creating a warm and welcoming atmosphere.
Integration with Nature:
In a log cabin home, connecting with nature is paramount. A walk-in shower allows you to blur the boundaries between indoor and outdoor spaces, creating a harmonious relationship with the natural surroundings. Consider incorporating large windows or glass panels to provide breathtaking views while you enjoy your however, immersing yourself in the tranquility of the forest or mountains that surround your log cabin home.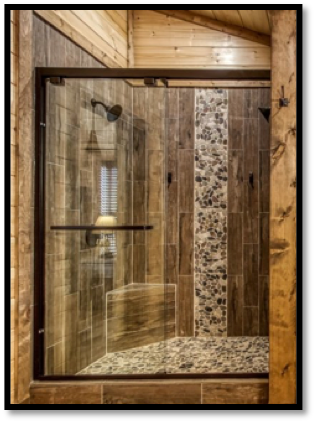 Easy Maintenance:
Log cabin living should be about embracing simplicity, and a walk-in shower contributes to this ethos by being low maintenance. With fewer nooks and crannies compared to enclosed showers, cleaning becomes a breeze. Spend less time scrubbing and more time enjoying the serenity of your log cabin retreat.
Accessibility and Comfort:
A walk-in shower offers easy access, making it suitable for all ages and abilities. Whether you're a young family or have older relatives visiting, everyone can enjoy a comfortable and safe bathing experience. The absence of barriers and stepovers eliminates potential tripping hazards, ensuring that everyone feels at ease in your log cabin home.
Customization Options:
Personalize your walk-in shower to match you log cabin's unique style. Choose from a variety of textures, colors, and fixtures that complement the natural beauty of the logs. Incorporate elements like rainfall showerheads or stone accents to create a spa-like oasis, where you can unwind and rejuvenate in the tranquility of your log cabin retreat.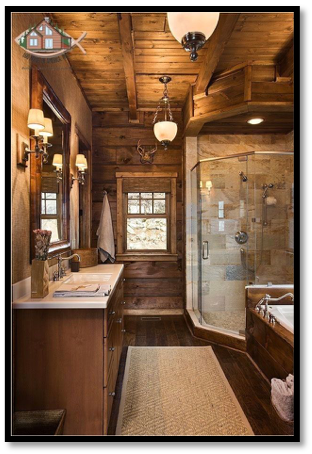 Value Enhancement:Installing a walk-in shower not only enhances your daily living experience but also adds value to your log cabin home. Potential buyers are often drawn to modern conveniences, and a well-designed walk-in shower can increase the appeal and desirability of your property, making it an attractive investment for the future.
A walk-in shower in a log cabin home combines functionality, aesthetics, and a connection to nature. By embracing the open design, integrating natural elements, and prioritizing accessibility and comfort, you can create a bathroom space that seamlessly blends with the rustic charm of your log cabin while providing the modern luxury you desire. Upgrade your log cabin home with a walk-in shower and elevate your daily routine in harmony with nature.