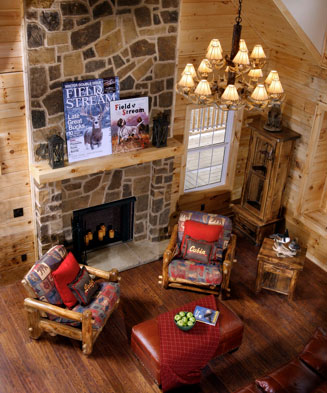 Selected by Field & Stream & Outdoor Life Magazines as the Cabin of the Year; no other choice than "The Silverado" will suffice to serve as our selection for our Silver Anniversary Model.
The Cabin of the Year: A Sportsman's Dream was forefront for Field & Stream and Outdoor Life readers from inception to completion through a combination of print, online and sweepstakes coverage. Field & Stream featured the home in print, beginning in June 2010, while a dedicated micro-site chronicled the home with video, photo galleries and blogs.
"We are proud of our commitment to our customers by providing the best quality and service in the log home industry," says Stephen Brumfield, National Sales Director for The Original Log Cabin Homes. "It is this commitment that sets our company apart as exemplified in the selection for The Cabin of the Year."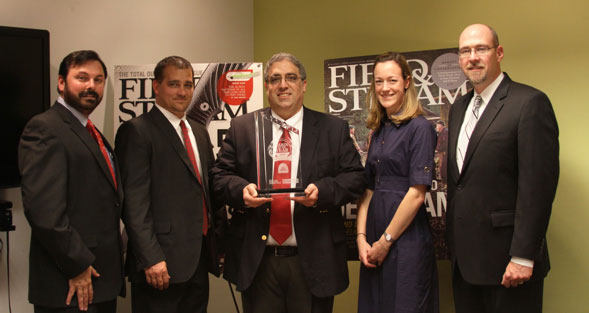 The Original Log Cabin Homes Founder, Tom Vesce, in his acceptance of the selection said, "We are deeply honored that many were considered, only we were selected!"
The cabin is custom designed and built by The Original Log Cabin Homes to meet sportsmen's cabin owning dreams. The home includes four bedrooms, two-and-a-half baths, full kitchen, laundry facilities, open area living room with a stone fireplace, workshop, garage with storage for equipment, spacious deck and more.
"The Silverado" was designed by Ken Pieper (Ken Pieper & Associates) of Evergreen, Colorado. Since the selection, The Original Log Cabin Homes and Ken Pieper have launched a collaboration that features "Ken Pieper Signature Design Collection" as part of The Original Log Cabin Homes offerings!
Silver Anniversary Model
The Silverado
The Silverado
30' x 40'
Approximately 2,184 Sq. Ft.
Log Profile: 8" x 6" Classic "D"
Species: Eastern White Pine
Specifications: Standard Builder Dealer Wholesale Materials Specifications