When it comes to designing or remodeling a kitchen one of the key decisions to make is choosing the right sink. Two popular options that often come up in this debate are the farmhouse sink and the divided sink. While both have their merits, they cater to different needs and aesthetics. Together we will delve into the unique characteristics of each sink style, exploring their pros and cons to help you make an informed decision.
Farmhouse Sink: Embracing Elegance and Nostalgia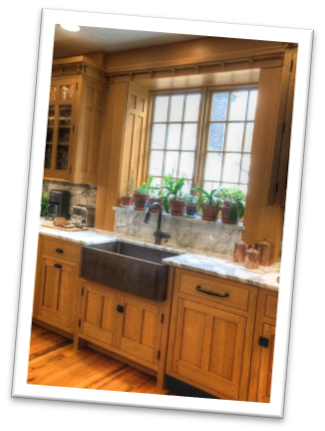 A farmhouse sink, also known as an apron-front sink, evokes a sense of rustic charm and country living. This style of sink originated in traditional farmhouses, where they were primarily used for heavy-duty chores. However, over the years, farmhouse sinks have become a sought-after design element in modern kitchens.
Pros:
Aesthetic Appeal
The farmhouse sink's most significant advantage lies in its timeless aesthetic. The exposed front panel adds a touch of elegance and character to any kitchen. It can seamlessly blend into various design themes, from traditional to contemporary, making it a versatile choice.
Ample Space
Farmhouse sinks are typically larger and deeper than divided sinks, providing ample space for washing larger pots, pans, and even baby bath time. The single, deep basin allows you to comfortably soak and clean oversized cookware without the limitations of a divided sink.
Ergonomics
The front facing design of a farmhouse sink eliminated the need to lean over a countertop, reducing strain on your back and making it more comfortable to use on a regular basis.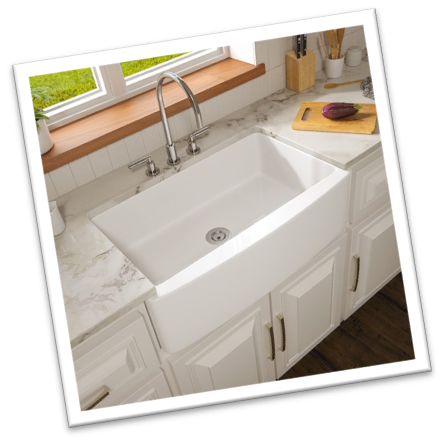 Cons:
Limited Separation
The absence of a divider means that you can't separate tasks efficiently. If you prefer multitasking or require separate compartments for washing and rinsing dishes simultaneously, a farmhouse sink might not be the most practical choice.
Splashing and Water Management
Due to the single basin design, it's easier for water to splash around while washing dishes. This can be mitigated by adjusting water flow or installing an overhanging faucet, but it's still a factor to consider.
Divided Sink: Maximizing Functionality and Organization
A divided sink, also known as a double-bowl sink, offers a more practical and functional approach to kitchen tasks. It consists of two separate basins, which can vary in size and configuration, offering a range of options to suit different needs.
Pros:
Task Separation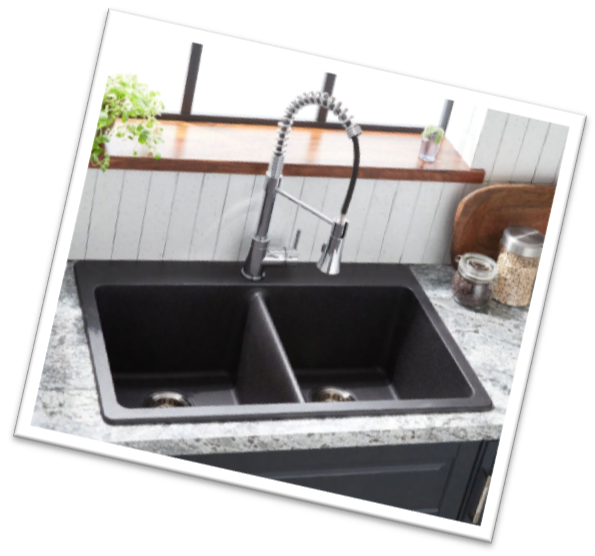 The primary advantage of a divided sink is the ability to separate tasks effectively. You can designate on bowl for washing dishes and the other for rinsing, making the process more efficient and organized.
Versatility
Divided sinks provide more flexibility when it comes to managing various kitchen activities. From food preparation to washing dishes or even soaking delicate items, having two basins allows you handle different tasks simultaneously.
Water Conservation
Divided sinks can help conserve water by using one basin for soaking for pre-washing dishes, and the other for rinsing. The separation reduces the need for constantly running water and can lead to more efficient water usage.
Cons:
Limited Space
Divided sinks often have small basins than farmhouse sinks, which can make it challenging to wash larger pots and pans comfortably. If you frequently deal with bulky cookware, you might find the restricted space frustrating.
Design Constraints
Divided sinks may not offer the same level of aesthetic appeal as farmhouse sinks. The presence of a divider can interrupt the clean lines and cohesive look of your countertop and cabinetry.
Choosing between a farmhouse sink and a divided sink ultimately depends on your personal preferences and kitchen requirements. If you are captivated by the classic elegance of a farmhouse sink and value the ample space it provides, along with its ergonomic benefits, then it could be the perfect choice for you. However, if you prioritize functionality, task separation, and versatility, a divided sink might be more suitable for your needs.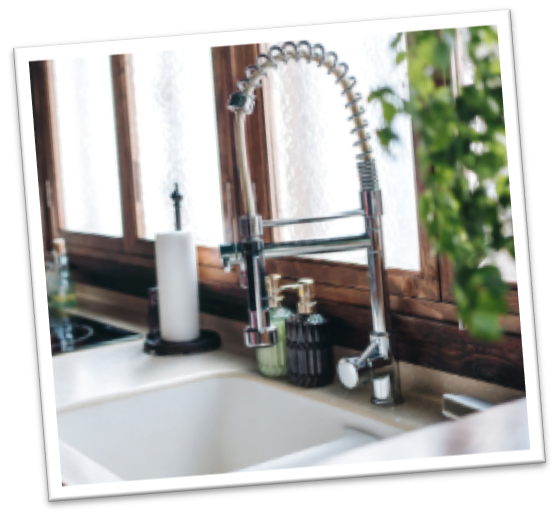 Remember to consider the size of your kitchen, the volume of dishes you typically handle, and your preferred kitchen workflow. Additionally, consider the overall design aesthetic you want to achieve, as both sink style can significantly impact the look and feel of your kitchen.
If you find yourself torn between the two options, you could also explore alternative solutions. Some manufacturers offer divided sinks with a larger basin on one side, accommodating larger items, while still providing a smaller secondary basin for task separation. This compromise allows you to have the best of both worlds.
Ultimately, whether you choose a farmhouse sink or a divided sink, remember that the sink is an essential element of your kitchen that should complement your lifestyle and needs. Consider your preferences for aesthetics, functionality, and organization to make an informed decision that will bring you joy and efficiency for years to come.
Whichever sink style you ultimately decide on, both the farmhouse sink, and the divided sink have their unique appeal. Embrace the timeless charm of a farmhouse sink or the practicality of a divided sink to create a kitchen space that reflects your personality and supports your culinary adventures.
Date Posted July 10, 2023
Written By Hannah Garciga