Nestled in the heart of nature, log cabin homes evoke a sense of rustic charm and tranquility. There's something inherently inviting about these cozy structures that draw us towards a simpler, more authentic way of living. While log cabins are already synonymous with warmth and comfort, the addition of an outdoor fireplace can elevate the experience to new heights. Together we will explore the enchanting world of outdoor fireplaces and how they can enhance the ambiance and functionality of your log cabin retreat.
Before we delve into the details of outdoor fireplaces, let's take a moment to appreciate the appeal of log cabin hoes. These timeless abodes blend seamlessly with their natural surroundings, offering a refuge from the chaos of modern life. Log cabins are a symbol of simplicity, craftsmanship, and a deep connection to the outdoors.
Imagine the scene: You're surrounded by towering pines, the crisp mountain air filling your lungs, and the gentle crackling of a fire in the background. That's the magic of an outdoor fireplace at a log cabin. Here are some great reasons why adding this feature can take your log cabin experience to the next level.
Ambiance and Coziness: Outdoor fireplaces infuse warmth and coziness into your log cabin retreat. The flickering flames create an inviting atmosphere that's perfect for gatherings, storytelling, or simple enjoying a glass of wine under the stars.
Extended Outdoor Season: With an outdoor fireplace, you can extend your outdoor living season well into the colder months. Enjoying your cabin's surroundings doesn't have to be limited to just the summer; now, you can comfortably relish the outdoors year-round.
Cooking and Dining: Some outdoor fireplaces are equipped with grills or pizza ovens, allowing you to prepare delicious meals in a unique outdoor setting. Cooking by an open fire adds a touch of rustic charm to your dining experience.
Increased Property Value: Besides the personal benefits, an outdoor fireplace can boost the resale value of your log cabin. Potential buyers are often drawn to the allure of an outdoor fireplace, making it a valuable investment.
Now that you're sold on the idea of adding an outdoor fireplace to your log cabin, it's important to consider your options: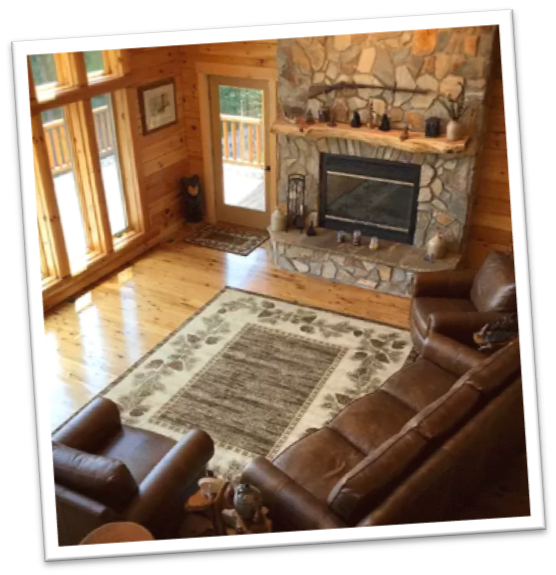 Fire Pit vs. Fireplace: Decide whether you want a traditional fireplace or a fire pit. Fire pits are versatile and great for gathering around, while fireplaces provide more structure and a focal point for your outdoor space.
Fuel Type: Choose between wood burning, gas, or electric fireplaces. Each has its own advantages and considerations. Wood burning fireplaces offer an authentic experience, while gas and electric options are more convenient and low maintenance.
Design and Aesthetics: Select a design that complements the style of your log cabin. Whether it's a sleek, modern fireplace or a traditional, stone-clad hearth, the aesthetics should blend harmoniously with your cabin's architecture.
Safety: Ensure your fireplace is installed safely, taking into account fire regulations and clearances from nearby structures. Safety should always be a top priority.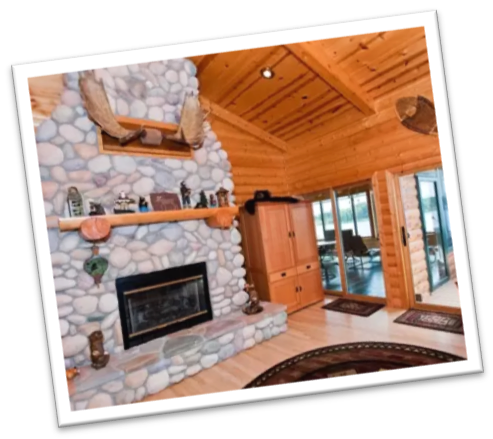 To make the most of your outdoor fireplace, regular maintenance is essential:
Keeping the fireplace or fire pit clean of ash, debris, and soot to maintain its efficiency and appearance.
If you have a wood burning fireplace, have the chimney inspected and cleaned annually to prevent creosote buildup and reduce fire hazards.
Invest in a protective cover or shelter to shield your outdoor fireplace from the elements, especially during harsh winters.
Log cabin living already offers an escape from the hustle and bustle of everyday life, but the addition of an outdoor fireplace takes it to a whole new level of comfort, coziness, and versatility. Whether you're looking to relax with loved ones, extend your outdoor season, or simple embrace the charm of your log cabin, an outdoor fireplace is a wonderful investment. With the right choice and proper maintenance, your log cabin will become a haven of warmth and serenity in the heart of nature, providing unforgettable memories for years to come.
Posted Date October 9th, 2023
Written By Hannah Garciga