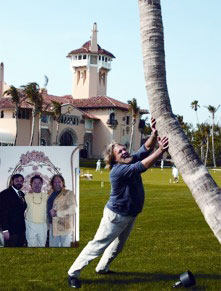 Palm Beach, FL – The recent wedding celebration of Donald Trump at The Mar-a-Lago Club preceded another union celebration. Trump's brother-in-law, Jim Grau, hosted a luncheon celebrating the union that paired, Rocky Mount, NC-based The Original Log Cabin Homes Ltd. with Hollywood star Dan Haggerty. Haggerty is best know for his portrayal of the historical figure Grizzly Adams in the television and movie series, "The Life and Times of Grizzly Adams", which aired during the seventies and eighties. After lunch, Grau gave a personal tour showcasing the splendor, style and elegance of The Mar-a-Lago Club. The conclusion was a tour by Trump's sister, Elizabeth Trump Grau, of the elegant residence she and Jim are building at Mar-a-Lago.
Tom Vesce, founder and president of Log Cabin Homes Ltd. said, "We're excited about Dan joining our team. His portrayal of Grizzly Adams truly depicts the lifestyle of Americana that we desire for our worldwide marketing and sales efforts." Haggerty, a renowned outdoorsman and log cabin enthusiast, will use his "Mar-a-Lago" inspiration to assist the creative team at Log Cabin Homes in the launch of a rustic, elegant line of "Grizzly Adams" — style log homes and cabins.
Log homes were a major part of the habitation of the United States. The majority of the original settlers and western pioneers built them as homes. Grizzly Adams built and lived in the quintessential log cabin, as the series was set in the nineteenth century. Log cabins, today, are far more than the little prairie or mountain cabins of our forefathers. They can be seen from coast to coast in many different sizes and in all types of environments. Surprising to many people, is that they can be seen from continent to continent as well. Grizzly Adams, and his image, is also recognized around the world.
The focus of Log Cabin Homes' new relationship with Haggerty is to solidify an emblematic, Americana line of homes for the US and abroad. Indeed, Log Cabin Homes Ltd., with multiple facilities in North Carolina, Florida and Connecticut, knows the world market. It exports its log homes and cabins to over 65 countries in 5 continents. For more information please visit the website https://www.logcabinhomes.com or email vesce@logcabinhomes.com.
SOURCE: The Original Log Cabin Homes Ltd.
Web Site: https://www.logcabinhomes.com